Everyone needs to be protected.
William's Fire Protection provides a wide range of products and services to insure that you are well equipped to deal with any fire emergency. We also provide a wide variety of safety products to equip your home or business. Although we specialize in commercial applications, we also provide a number of home extinguishers, emergency lighting, and first aid kits. Call today for your free estimate. We look forward to providing you with the right safety solution.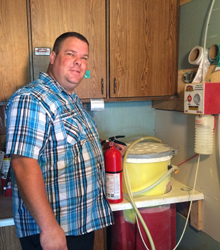 Dan Williams, General Manager
Don't Delay Your Safety or Your Customer's.
We can answer your fire protection questions and meet your fire inspection needs quickly, easily and effectively!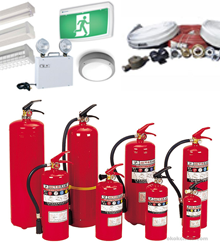 We sell the products you need.
Delivered and installed at your home or business.
Fire Suppression Systems
Fire Hoses
Fire Extinguishers
Hose Cases
Extinguisher Cases and Brackets
Emergency Signs and Lighting
First Aid Kits
Additional Hardware as needed for installation
We're on the road to serve.
We service the areas of Bay of Quinte, including north to Bancroft, West to Cobourg and East to Kingston. Daniel Williams our General Manager has been serving the Quinte and surrounding areas for over 18 years and has a wealth of knowledge and professional expertise in the fire protection industry. Daniel is certified in sales and servicing of all types of fire extinguishers, inspection and installations of restaurant fire systems.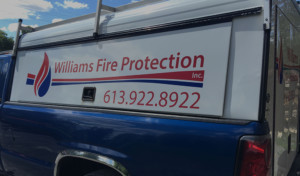 Contact Us for a Free Quote
We'll respond right away and make your inspection simple.